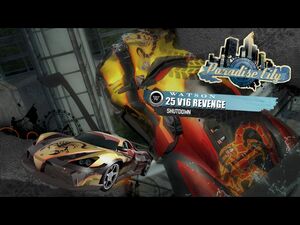 The Watson 25 V16 Revenge of Burnout Paradise is a very impressive speed vehicle. Its statistics are exceptionally high and has excellent maneuverability like many vehicles in its class. What makes this car interesting though is that the 25 V16 Revenge seems to have a bit more strength compared to other contending vehicles. The vehicle is still very fragile though and has relatively the same weakness as many of the other speed boost cars. It has an inability to perform well in combat-heavy events such as Road Rage, although if the player is skilled in dodging traffic and turning precisely, there are few vehicles that can beat the 25 V16 Revenge in a Race.
Description
This car has an awful lot of torque. Too much for it to handle. It's driven it mad. Drunk with power. It's practically foaming at the grill!
How to Unlock
Win 108 events then shut it down.
Resemblance
The 25 V16 Revenge in Burnout Paradise uses the same model as the Prototype R205 GT which first appeared in Burnout Revenge. The car takes a few design cues from the Saleen S7 and the McLaren F1 with the exception of the rear fin. The intake vents have been rotated 90 degrees. Other cars that can be said to influence the vehicle's design are the Ferrari Enzo, Gumpert Apollo and SSC Ultimate Aero. The tailights bear some resemblance to a Koenigsegg CCXR. It also closely resembles the Lotus Elise GT1.
Burning Route
Notes
Burnout Paradise's Free February Update lowered the 25 V16 Revenge's speed stat from 9 to 6.
The engine on the 25 V16 Revenge is actually a V10, not a V16 as the name implies.
The sound of the vehicle's engine is similar to that of a Porsche Carrera GT in NFS: Most Wanted and NFS: Carbon. EA simply reused the sound files from that game.
The rims are gold in color when the vehicle is idle, but appear to be silver in motion.
The 25 V16 Revenge's makes a slight blowoff noise when changing gears, and makes a spooling noise when accelerating, which means the engine is turbocharged.
The Criterion Games Development Team has a Life-Size Replica of the 25 V16 Revenge, smashed into a wall.
This vehicle also resembles the Revenge Racer from Burnout Revenge.
See Also
Community content is available under
CC-BY-SA
unless otherwise noted.