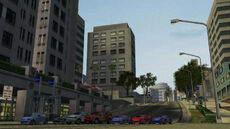 Burnout 2: Point of Impact features 22 vehicles, named simply what type of vehicle they are. Unlike the first Burnout which featured normal, unmodified vehicles as racers, Burnout 2's list of cars includes tuner-styled machines, older vehicles, and an oval racer, making the choice of vehicles more diverse.
Burnout 2 also features a new rating system. Instead of being simply rated on how difficult they are to drive, cars are now rated on their acceleration, handling, and speed statistics. Later in the Burnout series, this is shortened to just Speed and Weight in Burnout 3: Takedown, and even shorter for Burnout Revenge.
List
Community content is available under
CC-BY-SA
unless otherwise noted.