The Lineup is a collection of up to 80 Mugshots, Smugshots, Event Mugshots and Photo Finishes. In the Lineup each collection is split into 20 images of each category (for example, 20 mugshots, 20 smugshots, etc.) Each image has an option to lock which will keep the image within the Lineup until it is unlocked. Once the maximum of 20 images for each category is reached then the oldest image will be replaced by the newest image acquired.
Collections
Mugshots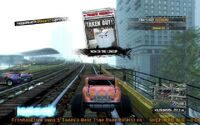 Mugshots are pictures of online rivals at the time they are taken down or their Road Rule records beaten by another player. This camera feature is available in Burnout Paradise through the of an USB camera. All versions of Burnout Paradise save up to 20 Mugshots in the Lineup. On the PlayStation 3 these snapshots can be saved to the console's hard drive.
Awards
There are 3 Xbox 360 Achievements concerning Mugshots. A Trophy was included in the Trophies Pack and rewards players for sending their first Mugshot or Smugshot.
| | | | | |
| --- | --- | --- | --- | --- |
| Achievement | | Happy Snapper | Send 5 Camera Shots. | 10 |
| Achievement | | Notorious | Send 50 Camera Shots. | 10 |
| Trophy | | Send a Mugshot or Smugshot | Awarded for sending a "Mugshot" or "Smughot" to another player during an online game (requires a USB camera to be connected). | Bronze |
Community content is available under
CC-BY-SA
unless otherwise noted.