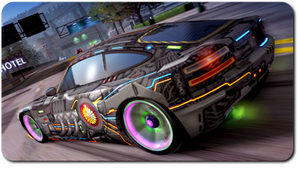 Switchable boost is a new boost type created for a single vehicle within the Boost Specials pack for Burnout Paradise. This boost type gives you the ability to switch between three boost types while driving by clicking the Left Stick or by pressing P. The 3 different types of boost that can be interchanged are Stunt boost, Aggression boost and Speed boost making any vehicle utilizing it able to compete in any event. The Montgomery Hawker Mech is currently the only vehicle in the Burnout Series to be equipped with Switchable Boost.
Switchable Boost was developed by the British car manufacturer Montgomery. No details of the origins, circumstances or development of the switchable boost technology are known but it is believed to be a hybrid of human and alien technology.
Manufacturers
| Manufacturer | Vehicles |
| --- | --- |
| | 1 |
Vehicles equipped with Switchable boost
Extension:DynamicPageList (DPL), version 2.3.0 : Warning: No results.
Community content is available under
CC-BY-SA
unless otherwise noted.