This article is about Big Surf Island Smash Gates. For Paradise City Smash Gates, see Smash Gate.
Big Surf Island Smash Gates are the same as Paradise City Smash Gates as they are used to show a short cut or an interesting location. Smash gates require a large amount of exploration in order to find them all. Most smash gates will come in pairs in the form of an entrance and exit of a shortcut or explorable area.
These orange island smash gates pulsate like the traditional yellow Paradise City smash gates except they pulsate with an orange light instead of a yellow light. Simply knocking down any section of the smash gate is enough to get credit. Driving through smash gates will only knock down the sections hit with the players vehicle. It is best that players drive through all sections of a smash gate so it is no longer visible. This can help players determine smash gates already credited from those that have yet to be smashed.
There are 75 Smash Gates on Big Surf Island and have been colored orange instead of the normal yellow. Breaking through all 75 Island smash gates will unlock the Toy Spirit.
Rewards
There is 1 Achievement for the Xbox 360 and 1 Trophy for the PS3 concerning Island Smash gates.
Burnout Paradise Rewards
Image
Criteria
Type
Award
Collect 20 Island Smashes
Achievement
20
Awarded when you drive through your 20th set of Orange Island Smash Gates.
Trophy
Silver
Locations
WRECKED!

This Burnout Paradise page "Smash Gate (Big Surf Island)" is incomplete.

If you can, please help Burnopedia by adding appropriate and relevant content here.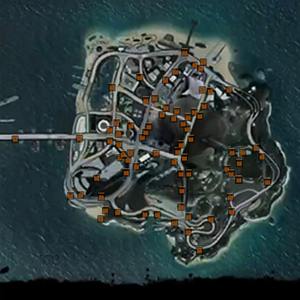 Big Surf Island Smash Gate District Maps

| Paradise Keys | North Beach | Midtown | South Coast | Perren's Point |
| --- | --- | --- | --- | --- |
Discoveries
Community content is available under
CC-BY-SA
unless otherwise noted.