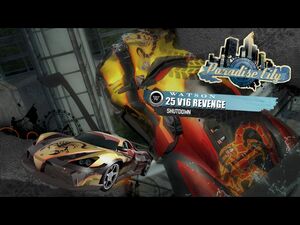 A Shut Down is a Takedown of a yet-to-be-unlocked vehicle controlled by AI during Freeburn mode. This is the main method for players to unlock new vehicles in Burnout Paradise.
DJ Atomika will announce upon the completion of a certain number of events that a new vehicle with picture and name has entered Paradise City.
A vehicle that needs to be shutdown will randomly appear whilst the player is in offline freeburn and drive past the player. This rival vehicle can easily be distinguished from traffic, not just by appearance, but also by its constant usage of Boost and its unique engine sound. The vehicle will become available for the player to drive once they takedown that vehicle.
A message will pop up and inform the player that they have successfully shut down their adversary once they take them down. Upon entering the Junkyard the player will find that the car is in a damaged state and will always respawn in such a state after a wreck until the player drives through an Auto-Repair.
The winding roads of White Mountain (such as North Mountain Drive) may be the most convenient environment to shut down rival vehicles. The roads there are narrow (making it easier to take down the rival), have less interfering traffic, and have few intersections (forcing the chased rival to follow a straight route).
Cars that can be Shut Down
Trivia
Only a maximum of 3 cars will appear on the streets when the player has managed to have more than two cars to Shut Down. Once one (or two) of them has been shut down, the other cars will appear in a similar fashion.

In rare occasions, one of these cars will appear randomly and overtake the player and then quickly followed by another car, as if they are chasing each other.

This obviously resembles Burnout 2's Face Off (Burnout 2).
Video
Community content is available under
CC-BY-SA
unless otherwise noted.