We're Getting Mutants in the MCU - The Loop
Play Sound

Road Rules are a gameplay type in Burnout Paradise. They are comprised of Time Road Rules and Showtime Road Rules. Each road has a different Time and Showtime score that must be beaten in order for the player to "Rule" that road. There are offline Road Rules that can be beaten and are set relatively low as well as online Road Rules that players can use to compete with other players on their console's friends list.
Ruling the Road
If the player beats both the time road rule and the showtime record for a road (or day and night times on a bike), he or she rules that road. When the player has the Road Rules menu on the top of his or her screen and he or she passes a street with a road rule beaten, the street sign is Silver (or Gold if both Road Rules are beaten for that street). To turn road rules on, the player must press the up arrow on the directional pad. Any roads with neither score beaten will appear red.
Ruling roads also contributes to the "Today's Best" during an online Freeburn. The player can set Online times that are sent to his or her friends to beat, or try and remove a rival's rule.
Time Road Rules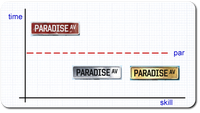 See full article for details.
In Time Road Rules, the player needs to go from the end of the desired street all the way to the other. Each road has two separate time road rules for Burnout Bikes: one for Day and the other for Night.
Showtime Road Rules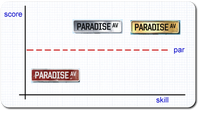 See full article for details.
In Showtime Road Rules, the goal is to do as much damage as possible to the traffic driving around Paradise City. To start Showtime, the player must hold down the controller's left and right bumpers to fling his or her twisted wreck into the air. Bikes cannot enter Showtime.
List of Road Rules
Burnout Paradise Road Rules

| Road Name | Car Time | Showtime | Bike Time Day | Bike Time Night |
| --- | --- | --- | --- | --- |
| 1st Street | 34.9 | $700,000 | 38.3 | 33.6 |
| 2nd Street | 45.7 | $700,000 | 50.2 | 47.9 |
| 3rd Street | 38.4 | $700,000 | 42.2 | 40.3 |
| 4th Street | 21.6 | $700,000 | 23.7 | 22.6 |
| 5th Street | 29.8 | $700,000 | 32.7 | 31.2 |
| 7th Street | 33.3 | $500,000 | 36.7 | 35.0 |
| 9th Street | 35.6 | $700,000 | 39.1 | 37.3 |
| Andersen Street | 15.5 | $700,000 | 17.0 | 16.2 |
| Angus Wharf | 41.8 | $1,500,000 | 45.9 | 43.8 |
| Cannon Pass | 13.5 | $250,000 | 14.8 | 14.1 |
| Casey Pass | 26.1 | $250,000 | 28.7 | 27.4 |
| Chubb Lane | 52.0 | $250,000 | 57.0 | 54.4 |
| East Crawford Drive | 44.8 | $1,500,000 | 49.2 | 47.0 |
| East Lake Drive | 1:11.3 | $500,000 | 1:19.4 | 1:14.8 |
| Evans Boulevard | 23.7 | $700,000 | 26.0 | 24.8 |
| Franke Avenue | 22.9 | $700,000 | 25.1 | 24.0 |
| Fry Avenue | 14.1 | $700,000 | 15.5 | 14.8 |
| Gabriel Avenue | 13.4 | $500,000 | 14.7 | 14.0 |
| Geldard Drive | 25.0 | $250,000 | 27.6 | 26.3 |
| Glancey Avenue | 32.7 | $700,000 | 35.9 | 34.3 |
| Hall Avenue | 26.9 | $500,000 | 29.5 | 28.2 |
| Hamilton Avenue | 44.0 | $1,000,000 | 49.6 | 45.4 |
| Hans Way | 35.8 | $250,000 | 39.3 | 37.5 |
| Harber Street | 54.8 | $700,000 | 1:00.2 | 57.5 |
| Hawley Avenue | 6.5 | $700,000 | 7.1 | 6.8 |
| Hubbard Avenue | 1:01.7 | $500,000 | 1:07.8 | 1:04.7 |
| Hudson Avenue | 8.1 | $700,000 | 8.9 | 8.5 |
| I-88 Section 1 | 40.7 | $700,000 | 44.7 | 42.7 |
| I-88 Section 2 | 51.0 | $700,000 | 58.2 | 53.6 |
| I-88 Section 3 | 48.4 | $700,000 | 53.2 | 50.8 |
| I-88 Section 4 | 1:07.6 | $700,000 | 1:14.3 | 1:10.9 |
| King Avenue | 21.5 | $700,000 | 23.6 | 22.5 |
| Lambert Parkway | 1:26.4 | $1,000,000 | 1:35.0 | 1:31.7 |
| Lawrence Road | 25.9 | $250,000 | 28.4 | 27.1 |
| Lewis Pass | 34.4 | $250,000 | 37.8 | 35.1 |
| Lucas Way | 1:01.4 | $250,000 | 1:07.5 | 1:04.4 |
| Manners Avenue | 1:00.2 | $400,000 | 1:06.2 | 1:03.2 |
| Moore Avenue | 9.2 | $700,000 | 10.1 | 9.6 |
| North Mountain Drive | 1:46.3 | $250,000 | 1:58.9 | 1:51.6 |
| North Rouse Drive | 1:18.4 | $250,000 | 1:29.2 | 1:27.3 |
| Nakamura Avenue | 4.7 | $700,000 | 5.1 | 4.9 |
| Nelson Way | 1:53.9 | $250,000 | 2:05.2 | 1:58.5 |
| Newton Drive | 24.9 | $700,000 | 27.3 | 26.1 |
| Paradise Avenue | 19.8 | $700,000 | 21.7 | 20.7 |
| Parr Avenue | 17.5 | $500,000 | 19.2 | 18.3 |
| Patterson Avenue | 8.2 | $700,000 | 9.0 | 8.6 |
| Rack Way | 25.6 | $250,000 | 29.8 | 28.1 |
| Read Lane | 40.6 | $250,000 | 44.6 | 42.6 |
| Riverside Avenue | 8.4 | $700,000 | 9.2 | 8.8 |
| Root Avenue | 44.8 | $700,000 | 49.2 | 47.0 |
| Ross Drive | 21.1 | $250,000 | 23.2 | 22.1 |
| South Bay Expressway | 52.7 | $1,500,000 | 57.9 | 55.3 |
| South Mountain Drive | 1:21.3 | $250,000 | 1:29.4 | 1:25.3 |
| South Rouse Drive | 51.7 | $700,000 | 56.8 | 54.8 |
| Schembri Pass | 45.3 | $250,000 | 49.8 | 47.5 |
| Shepherd Avenue | 12.9 | $500,000 | 14.1 | 13.5 |
| Sullivan Avenue | 6.8 | $700,000 | 7.4 | 7.1 |
| Uphill Drive | 32.4 | $250,000 | 35.6 | 34.0 |
| West Crawford Drive | 1:08.5 | $700,000 | 1:15.3 | 1:11.9 |
| West Lake Drive | 49.6 | $700,000 | 54.5 | 52.0 |
| Warren Avenue | 6.7 | $500,000 | 7.3 | 7.0 |
| Watt Street | 5.8 | $700,000 | 5.3 | 5.0 |
| Webster Avenue | 32.9 | $1,000,000 | 36.1 | 34.5 |
| Young Avenue | 31.4 | $700,000 | 34.5 | 32.9 |

Big Surf Island Road Rules

| Road Name | Timed | Showtime |
| --- | --- | --- |
| Daniell Way | 11.98 | $350,000 |
| Glover Way | 6.05 | $200,000 |
| Grange Hill | 10.75 | $100,000 |
| Griffin Boulevard | 4.90 | $100,000 |
| Huntley Boulevard | 16.42 | $100,000 |
| Jacobs Street | 8.60 | $200,000 |
| Lipscomb Way | 11.25 | $100,000 |
| Maguire Road | 43.78 | $350,000 |
| McDonald Road | 11.22 | $200,000 |
| Paradise Keys Bridge | 33.42 | $350,000 |
| Pitt Avenue | 18.77 | $350,000 |
| Shires Drive | 35.43 | $200,000 |