WRECKED!

This Burnout Paradise page "Paradise Keys Bridge" is incomplete.

If you can, please help Burnopedia by adding appropriate and relevant content here.

Paradise Keys Bridge is a large cable-stayed bridge in Burnout Paradise that connects Paradise City to Big Surf Island. Before the Big Surf Island Update there was only a small portion of the bridge completed with the rest in a skeleton frame with Big Surf Island in the distance. Once the update was released the bridge was lowered in order to comply with the height of Angus Wharf and 4th Street as well as Big Surf Island being moved closer to Paradise City than originally intended.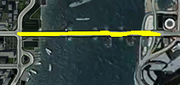 The bridge is divided into two sides; the north side being designed for racing with a simple road surface with two split ramps whilst the south side is still under construction providing a plethora of opportunities for Stunts and a large amount of cumulative air time.
Performing a Showtime Road Rule on Paradise Keys Bridge can be difficult for players as traffic does not appear for the player to hit. Instead they must start on the east end of the bridge and move onto the major roads of the Island in order to continue.
There is one Mega Jump on Paradise Keys Bridge. Players can complete it by driving onto the bridge from the east and launching their vehicle off of the ramp in the middle of the road. The jump is triggered once the player leaves the end of the second ramp.
The road firmly follows an East-West axis.