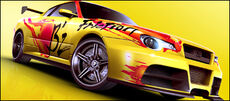 The Nakamura Ikusa GT B'z is a Japan-Only car which is to celebrate the B'z song "Friction." The Ikusa GT B'z is a good stunt car as its ability to perform Stunts and Driving Skills as well as its top speed and fantastic handling make it a great early unlock car. It performs well in Race events as well as Stunt Run events. Players must be careful of the weight of the car during a Stunt Run as it is a little heavier than other Stunt class cars but it handles the same as the original Ikusa GT.
Description
Rock gods B'z bring you this fantastic custom Ikusa GT. Crank it up to 11, and rock on!
How to Unlock
Enter "bzfriction" as a case-sensitive code in the Japanese version of the game.
Note: A C Class License is required to drive this vehicle offline.
Resemblance
The Ikusa GT B'z resembles a 5th Generation Nissan Skyline R34 GT-R. The Nakamura Ikusa GT B'z looks like the Muscle Type 2 of Burnout 3: Takedown.
Notes
The Free February Update removed the option to enter Sponsor Codes. There are steps players can take to get around this.
"Ikusa" is the Japanese word for "Battle."
The Ikusa GT B'z and its other variants are the only vehicles with a right-handdrive.
This car cannot be used in an online Cops & Robbers game.
Community content is available under
CC-BY-SA
unless otherwise noted.