Motor City, Michigan is one of four USA Locations in Burnout Revenge. It is based on Detroit, Michigan and features two circuits.
Short Circuit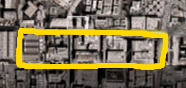 This simple rectangle track surprisingly lacks shortcuts and has minimal traffic. However, there are multiple path choices through the long stretches of the circuit; players must choose wisely while avoiding stationary obstacles and occasional cross traffic. There are also several opportunities to catch air and crush rivals for Veritcal Takedowns, primarily in the alley.
Long Circuit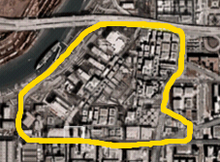 Apart from the long alleyway, this track excludes sections from its short circuit counterpart and instead travels north into the heart of the city's industrial region. The streets are much more congested with traffic, especially along the docks and a linking highway. There are also plenty of alternative routes and shortcuts through warehouses, construction sites, and abandoned railroads.
Crash Junctions
Motor City features several crash junctions in areas outside of the circuits:
Rank 1 Crash Deconstruction Site
Rank 1 Crash Cars Attacks
Rank 5 Rank 9 Crash Jump On The Jam
Rank 7 Crash Double-Crossed
Rank 7 Crash Mighty Docks
Rank 7 Crash Return Of The Semi
Rank 8 Crash Van-Fire Strikes Back
Xbox 360 Exclusive Junctions
The Xbox 360 release includes am additional 10 new crash junctions around the world:
Rank 1 Crash Exploding Bay
Race Events
Rank 1 Race Short Reverse
Rank 1 Road Rage Short Forwards
Rank 4 Eliminator Short Forwards
Rank 4 Traffic Attack Long Forwards
Rank 4 Road Rage Long Reverse
Rank 7 Crashbreker Race Long Reverse
Rank 10 Crashbreaker Road Rage Long Forwards
Rank 10 Burning Lap Motor City Short Reverse
Community content is available under
CC-BY-SA
unless otherwise noted.