Lone Peak is one of four USA Locations in Burnout Revenge. It is based on Mount Rushmore Park, South Dakota and only features a long circuit.
Circuit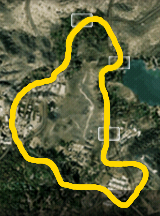 This rustic woodland includes a lumber warehouse, old railway, and several campgrounds. A lot of the shortcuts are dangerously narrow or bumpy, but they can really shorten a player's route if entered successfully. Similar to Silver Lake in Burnout 3: Takedown, motorhomes can be frequently seen, although they don't provide any signature takedown. Traffic is heaviest on freeway roads near the warehouse but other areas are fair.
Crash Junctions
All of Lone Peak's crash junctions are set outside the track:
Rank 4 Crash Round The Bend
Rank 4 Crash Forest Bump
Rank 1 Rank 7 Crash Off The Beaten Truck
Rank 7 Rank 9 Crash Drive-Thru Destruction
Rank 5 Rank 10 Crash Doughnut Disturb
Rank 4 Rank 10 Crash Mount Crushmore
XBOX 360 Exclusive Junctions
The HD port released on the XBOX 360 added 10 new crash junctions around the world:
Rank 3 Crash Wish Upon A Car
Rank 4 Crash Jumping Jack Trash
Rank 10 Crash Live And Let Crash
Notes
This track suffers from a minor glitch where your car wrecks for no reason. At some point you have to do a wide 180 turn, where some red barriers block you from falling down the hill. There is a specific point before the barriers end and if you happen to be there your car wrecks for no reason and everything goes in slow motion with Aftertouch and the camera forced behind the car, exactly as if you were falling from the White Mountain. Probably in earlier versions the barriers were not here and they forgot to remove the "auto-crash" feature from the track.
Race Events
Rank 4 Burning Lap Reverse
Rank 4 Eliminator Reverse
Rank 7 Traffic Attack Forwards
Rank 7 Crashbreaker Eliminator Forwards
Rank 7 Crashbreaker Road Rage Reverse
Rank 7 Crashbreaker Grand Prix 7
Rank 9 Crashbreaker Road Rage Forwards
Rank 10 Crashbreaker Race Forwards
Rank 10 Burning Lap Forwards
Rank 10 Crashbreaker Eliminator Forwards
Community content is available under
CC-BY-SA
unless otherwise noted.