Kings of the Road is a long A to B track in Burnout 3. The track takes the player through most of the other USA tracks, including Downtown, Waterfront and Silver Lake. The track itself snakes along the upper area of the map.
Layout (Westbound)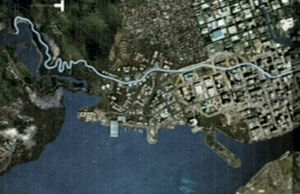 Assuming you are going eastbound, you start the race in Downtown, in the pillar section (a great place for takedowns). Next, you move away from the city, and onto an expressway. This area is good for gaining boost via near misses. Next, you move off the expresway, and into Waterfront. You then go through a busy road(the same in
Corkscrew
) and get off to a road that takes you to Silver Lake. This road twists through an intersection, and several drifty turns, before finally, you get dropped off at Silver Lake. You then procced to follow this road to an intersection, where you turn left. There, at the bottom of a curvy hill, lies the finish.
Hazards
Due to its high traffic in the eastern regions and hazardous turns in the Silver Lake area, this track is an Intermmediate track, and sometimes back to Beginner. The main things to watch for in this course is the high amounts of traffic in Waterfront and highway sections. This brings a step up here than normal Waterfront, so it is highly advised you bring your A game, especially in duels.
Face Off
This map contains a Face Off event. Getting a gold in the event will unlock the Dominator Compact.
Community content is available under
CC-BY-SA
unless otherwise noted.