It's fast. It's a bit mental. And it doesn't like you very much. But if you've got the skills to tame it, there aren't many cars faster.
The
Jansen X12
is one of the fastest cars in
Burnout Paradise
. It has amazing speed and boost capabilities but poor strength. In terms of event effectiveness in events it is best suited for
Race
events but is limited in other events due to its boost type and low strength. The X12 takes a little time to get used to due to its unusual handling traits as it has been tuned for grip at relatively high speeds making it harder to control at low speeds. Once under control there are few other cars in the game that can keep up with it. Think of this car as a 25 V16 Revenge with less boost and more surprises.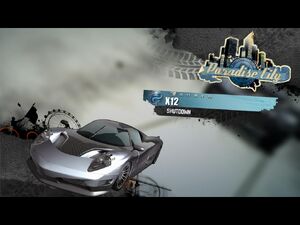 The
Jansen X12
is a
speed
car that requires experience to control, with a high cruising speed and insane boost speed.
How to Unlock
Win 66 events then shut it down.
Burning Route
Resemblance
The car model may have some design inspiration from the Swedish Koenigsegg CCR and CCX, but its overall body shape is most similat to the Pagani Zonda. Its front resembles that of a more curvaceous Chrysler ME Four-Twelve with the bumper taken from the Ferrari F430.
Notes
In Burnout Paradise's Free February Update the X12's speed stat was lowered from 7 to 5 and its boost stat was lowered from 8 to 7.
It is one of the few vehicles that can be driven with its engine exposed. The engine, a V12, can also be seen through the rear window.
The X12's engine sound sounds very similar to that of the Pagani Zonda R.
Its Burning Route name has the word "Turbo" in it, which suggests that "X12 Turbo" was the original name for the car during development.
DJ Atomika refers to this vehicle as the "Jansen X12 Supercar" when the player shuts it down.
Community content is available under
CC-BY-SA
unless otherwise noted.