This page is a guide of car events in Burnout 3: Takedown.
Single-Player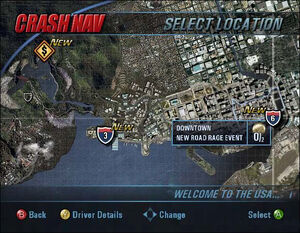 In Burnout 3 World Tour, you can compete in different locations in the USA, Europe, and the Far East. You can earn gold, silver, or bronze medals depending on how you do in the event to unlock new events, awards, and vehicles.
Leader at the end of the last lap wins. Lap amount varies depending on class and track length.
Earn GP points for qualifying in a series of 3 or 4 races. Your goal is to get the highest combined score.If you get at least a bronze you'll unlock a new series
Stay ahead to win: the driver in last place at the end of each lap is knocked out.
Race one-on-one against a challenger to win their car. The opponent is more aggressive and will often have an advantage over vehicles that the player unlocked earlier, such as speed or handling. Boost is more precious in face-offs and takes longer to regain if it is lost. Dangerous driving alone isn't enough for victory, so players will have to use boost wisely, avoid crashing and battle intensely with their rival to win.
Take down as many racers as possible in the time limit. Hit the takedown targets to win medals. The event ends once the player's car is destroyed or the timer reaches zero.
Beat the Bronze, Silver, or Gold time in one lap to earn medals.Get less than Bronze and you get no medal. There are also Preview Laps that introduce players to cars that are unlocked later in the World Tour.
Burners with enough gold medals get invited to exclusive special events. A win earns a Special Event Postcard in addition to a Gold Medal.
Create a multi-car pileup and earn cash to unlock more vehicles.
Split-Screen Multiplayer
In this head to head challenge your aim is to get 10 takedowns before your opponent
Team up and find the routes to the biggest smash. Two players can play Team Crush.
Fight for crash money. Who can cause the most destruction? Two players can play Double Impact.
Step up to the plate to cause the biggest smash. Party crash can be played either solo or on teams with 2 to 8 players. Party crash has a maximum of 4 rounds
Online Multiplayer
Community content is available under
CC-BY-SA
unless otherwise noted.