RETRO WRECK!

This page containing information predating Paradise, Downtown (Burnout 3), is not complete.

If you can, please help Burnopedia by adding appropriate and relevant content here.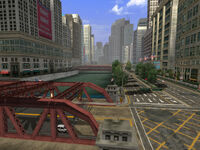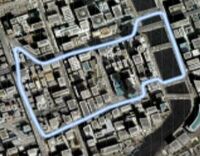 Downtown is a track in Burnout 3: Takedown set within the USA. It is based predominantly on Chicago, Illinois, with some details inspired by Pittsburgh, Pennsylvania. It takes players through the streets of a busy city with bridges, a main street, and a section of elevated railroad with lots of pillars that can be extremely dangerous for beginner and veteran drivers alike.
Events
Race Events
Event
Direction
Type
Goal
Car Limits
Preview Lap 1
Southbound
Preview Lap
 1:03.00
Sports Type 3
 1:10.00
 1:30.00
Road Rage 1
Southbound
Compact Series
 5 Takedowns
 3 Takedowns
 1 Takedown
Race 1
Northbound
Compact Series
Tuned Compact
Race 2
Southbound
Muscle Series
Road Rage
Northbound
Muscle Series
 9 Takedowns
 5 Takedowns
 2 Takedowns
Preview Lap 2
Northbound
Preview Lap
 0:55.00
Euro-Circuit Racer
 1:03.00
 1:15.00
Crash Events
Event
Goal
Crashbreaker in
Cross Traffic
 $145,000
8 Wrecks
 $100,000
 $60,000
Demolition
 $190,000
8 Wrecks
 $150,000
 $55,000
Dead End
 $500,000
10 Wrecks
 $250,000
 $70,000
Wrecks City
 $450,000
10 Wrecks
 $250,000
 $70,000
Hate To Be Late
 $600,000
15 Wrecks
 $250,000
 $80,000
Hold Tight
 $500,000
12 Wrecks
 $250,000
 $80,000
Traffic Jammed
 $450,000
10 Wrecks
 $250,000
 $80,000
Bus Blockade
 $400,000
14 Wrecks
 $250,000
 $85,000
Grid Locked
 $600,000
12 Wrecks
 $400,000
 $90,000
Air Rage
 $500,000
12 Wrecks
 $200,000
 $90,000
Hit And Run
 $500,000
15 Wrecks
 $250,000
 $80,000
Signature Takedowns
Pillar Driller: Takedown a rival into the Black and Yellow pillars supporting the Railroad Tracks. These can be found in a long straight after the second Red bridge (Southbound), as well as other places along the track.
Hit the Split: Takedown a rival into the opening/closing split of the underpass. If driving Southbound, this will be the first tunnel after a left turn.
Truck Torpedo: Takedown a rival into a Big Rig with a speedboat on it's trailer. This can be a difficult Takedown due to the rarity of Big Rigs with speedboats, but they can be found dotted on the rounds surrounding Silver Lake or 10 seconds after the start of a race in Waterfront (Westbound).
Crash Headline
Downtown Demolition - Cause a crash damage of $650,000.
Community content is available under
CC-BY-SA
unless otherwise noted.