This article is about the in-game radio station. For Criterion Games's podcast, see Crash TV.
Crash FM is a fictional radio station within the Burnout series. It was introduced in Burnout 3: Takedown. It is a typical radio station with a DJ and music, however there are no advertisements.
Burnout 3: Takedown
DJ Stryker is the DJ in Burnout 3: Takedown. During events, Stryker randomly interrupts the background music (EA Trax) to provide commentary and tips. He is also heard in the Crash and Race Training videos. It is possible to disable Stryker's voice during events.
Burnout Revenge
Burnout Revenge features a new, unnamed female announcer voiced by Jules de Jongh. She is only heard during the opening movie of the game, and not at all during gameplay.
Burnout Dominator
The unnamed female announcer from Burnout Revenge returns in Burnout Dominator, with the same role as before.
Burnout Paradise
DJ Atomika is the DJ in Burnout Paradise, who gives the player tips and advice during gameplay.
The track listing for Crash FM features licensed songs from the EA Trax label and music from previous games in the Burnout series. The track listing is also much larger than previous Burnout games, and DJ Atomika has many more quotes than other DJs.
DJ Atomika was originally the DJ in a another EA published game - SSX 3 - and some of Atomika's comments refer to this past occupation. The unnamed female announcer from some previous Burnout games makes a small appearance as well, narrating the introduction movie that plays the first time a new player starts the game.
Crash FM's Building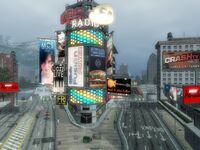 The Crash FM radio station is found in Paradise City as a fairly large building with a radio antenna on top of it. Located between Franke Avenue and Paradise Avenue on the large intersection of 3rd and Fry.
It has a Crash FM sign on the front of it. Strangely, this seems to be the only radio station in the Paradise City.
Note
In Burnout Paradise's teaser trailer, Crash FM's in-game station is located at the intersection of 7th Street and Hamilton Avenue, where it was later replaced by Diesel HQ. DJ Atomika references his studio at this location.
Community content is available under
CC-BY-SA
unless otherwise noted.