SPOILER WARNING!

This page "Carbon" contains information considered as spoiling.

If you do not want any hints, cheats or achievable detail for the game, then do not read on.

It is highly recommended that you only read this article if you have completed this aspect of the game or if you are extremely stuck.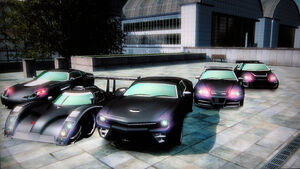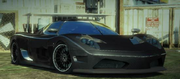 The Carbon variants are a special series of cars in Burnout Paradise. The six vehicles included have the highest statistics of their variants and are arguably some of the best cars in the game. These carbon vehicles are original Paradise cars refitted with a special carbon fiber body and chrome trim. The Carbon finish is unchangeable and cannot be painted in standard conditions.
The Carbon variants are immensely superior to their normal counterparts because they have had boosts in every statistical field and because of their boost type conversions. The only exception to the "statistical boost" rule is the Krieger Carbon Überschall 8 which trades 1 Speed and 2 Boost points for 2 extra Strength points.
Carbon Cars can only be unlocked as rewards for completing Freeburn tasks such as landing all Super Jumps or beating all Showtime Road Rules.
List of Carbon Cars
Below is a list of all Carbon Cars.
Make
Model
Boost Type
Cruising

---

Boosting
Unlock
Method
Required
Packs
Ratings

Kitano

Carbon Hydros Custom

Stunt

170 mph

---

185 mph
Beat all 64 Showtime Road Rules.
None




Krieger

Carbon Überschall 8

Stunt

170 mph

---

185 mph
Complete 2 full sets of Original Freeburn Challenges.
None




Montgomery

Carbon Hawker

Speed

180 mph

---

199 mph
Hit all 120 Burnout Billboards.
None




Nakamura

Carbon Ikusa GT

Aggression

170 mph

---

185 mph
Beat all 64 Time Road Rules.
None



Notes
Carbon Cars cannot be used in an Online Cops and Robbers game.
If you use a Carbon vehicle in a 1 vs 1 race, the rival will use the same car as you but with a different color.
Community content is available under
CC-BY-SA
unless otherwise noted.