About
The Burnout Fandom is a fan-maintained, unofficial encyclopedia relating to the Burnout series, following the first edit published on December 21, 2007!
This fandom site has been crafted by fans for fans! We love Burnout, and we hope that's why you're here too! What does a fandom encyclopedia offer over other sites? Well, anyone can edit the site to any degree, and that means you can work with fellow fans to create the ultimate fan site!
Users are welcome to edit car articles, if cars are their number one thing; expand customisation articles, if they're all about those sweet parts; document their findings for location articles, to help their fellow explorers; or help us all get to know the characters that make up the numerous stories of the series!
Welcome Fans!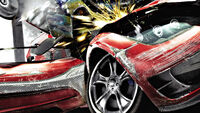 You're here because you want to add to our growing encyclopedia of content, and that's fantastic! We're striving for completeness; pushing to cover all aspects of Burnout in as much detail as possible.
As an unofficial fan site, we have no affiliation with Electronic Arts, or any developers of the long standing racing franchise. Those that contribute do so as fans that wish to express their fondness for the series through the creation of informative articles, that may included a limited "fair use" of content from products of the series.
This is not a site for fighting over which games are better or discourage users for enjoying their favourite games. You're here because you've got an interest in the series or you want to become an invested addition to this fan site.