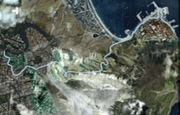 Alpine Expressway is a freeway running from Winter City, through the Alpine area, and finishes near Riviera. The track, Alpine Expressway, runs along this route. There is another freeway along which Continental Run runs.
The track starts in Winter City, and runs through a market section. It then exits onto a highway. It then spirals around and enters the freeway. It goes along a mountain side, through two tunnels and along a suspension bridge, where the Signature Takedown "Avalanche" can be achieved.
It then exits onto a twisty section of road and through a tollbooth, where another Signature Takedown, "Paid the Price!" can be achieved. Then, the route joins the expressway once again, but then exits into the Riviera area. After a short blast along the seaside, the track goes up into the centre of town, around a roundabout where another Signature Takedown can be achieved, "Riviera Roustabout". It then rejoins the seaside road and shortly after finishes.
Community content is available under
CC-BY-SA
unless otherwise noted.